Meet Dr. Shervin Tabrizi
Chiropractic Career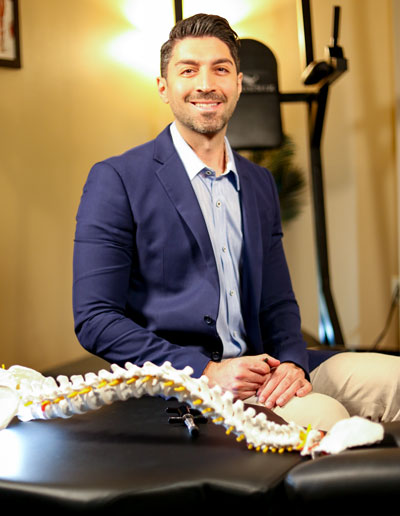 Dr. Shervin Tabrizi, DC has been reviewed as Costa Mesa's top chiropractor by his patients. Dr. Tabrizi's reputation is widely known for his highly effective techniques in restoring the normal functions of the spine, and alleviation of chronic headaches, low back pain, and neck pain. Dr. Tabrizi has worked with infants as old as a few hours as well as geriatric patients up to 100 years old.
Dr. Tabrizi's achievements include:
Doctorate of Chiropractic
Bachelor of Science, Biology
National Deans List
Dr. Tabrizi is board certified and graduated from Southern California's highly accredited Southern California University of Health Sciences.
Wellness Expert
Dr. Tabrizi is a highly respected wellness expert and spends a great deal of time outside of the office speaking to major corporations, businesses, universities, and county schools on various health topics. These workshops are a community service and last between 15-30 minutes at no charge. If you are interested in having Dr. Tabrizi provide your business or school with a workshop, contact (714) 957-1876. Dr. Tabrizi looks forward to getting to know you and helping you restore your health naturally through chiropractic care. Please give our Costa Mesa office a call today to schedule your appointment.
---
Costa Mesa Chiropractor | (714) 957-1876