Pain Management in Costa Mesa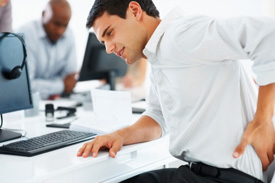 Whether we are dealing with an acute or chronic injury, our most important priority is that we address the underlying cause of pain. It is always better to correct the problem, rather than mask the symptoms. That is why proper diagnosis is our first priority.
What to Expect
After a comprehensive examination, and confirmation through digital x-rays (if necessary), your diagnosis will reveal a proper course of treatment to quickly allow you to return to your desired quality of life.
Our treatment methods consist of an multi-focus approach to decrease your pain in the short term, and increase your functional capacities for the long term. In order to achieve this, we use the following modalities in our treatment protocols:
Chiropractic Adjustments for the alignment and decompression of spinal segments causing pain.
Therapeutic Exercise for the lengthening, strengthening, and release of muscular weakness and tension.
Acupuncture for the decrease of pain in involved soft tissues.
Home Therapy Training for prevention of reinjury and quicker recovery time.
Personal Training for strength training and stabilization.
---
Pain Management in Costa Mesa | (714) 957-1876